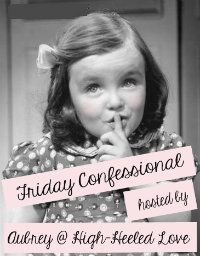 I confess...
"My healthy eating and exercising will start tomorrow"-Is what I tell myself everyday.
I confess...
I still haven't unpacked from the trip we didn't go on last weekend (
see here
).
I confess...
I'm really trying to make myself like Greek yogurt. I can handle it as a cooking substitute, but I just can't eat it on it's own.
I confess...
I don't mind this little ice storm that came through town and caused most of the city to cancel work for the day. Sweatpants and spending the day on the couch is much better than working. It would have taken me a while to chisel my way into the car...